Participation in the kick-off meeting (12.02.2021, online)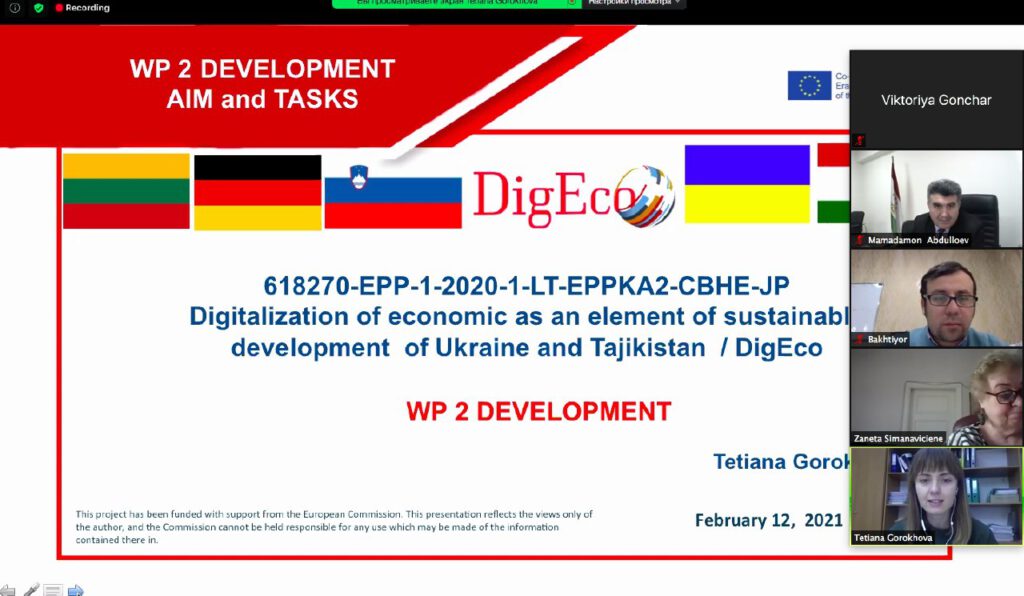 On February 12, 2021, the first inaugural meeting of the DigEco Higher Education Capacity Development Project (CBHE) "Digitalization of the Economy as an Element of Sustainable Development of Ukraine and Tajikistan" took place.
The launch of DigEco began with a discussion of the challenges facing higher education in Ukraine, Tajikistan, other partner countries and Europe.
Speakers of the meeting were Andrea MURZI — DigEco Project Officer (EACEA) and Oleg SHAROV

—

Director General of the Directorate of Professional Higher Education of the Ministry of Science and Education of Ukraine, who noted the importance of DigEco for higher education in the digital context.
Svitlana SHYTIKOVA, Coordinator of the National Erasmus+ Office — Ukraine and Tsaryna NURIDINOVA, Coordinator of the National Erasmus+ Office — Tajikistan, reaffirmed their readiness to promote a partnership with DigEco to improve the awareness, visibility, relevance, effectiveness and impact of the international DigEco component. The Erasmus+ National Offices — Ukraine and Tajikistan noted their openness to cooperation with partner countries and their willingness to support and support all project-related activities in higher education.
The meeting discussed the development of an innovative methodology for Project Inclusive Education and the creation of a laboratory with modern and inclusive equipment and software, the participation of partners in the tasks of work packages for course development, quality assurance, dissemination and management. The schedule of trainings within the project and other issues of the project activity are specified.
The Ministry of Digital Transformation of Ukraine as a member of the DigEco Consortium will support the project at the state level in the implementation of DigEco results. Cooperation with the Ministry will disseminate information about DigEco, which works among target groups at the national level, and will expand the range of users of DigEco results.